Brain Elevate (60 caplsules)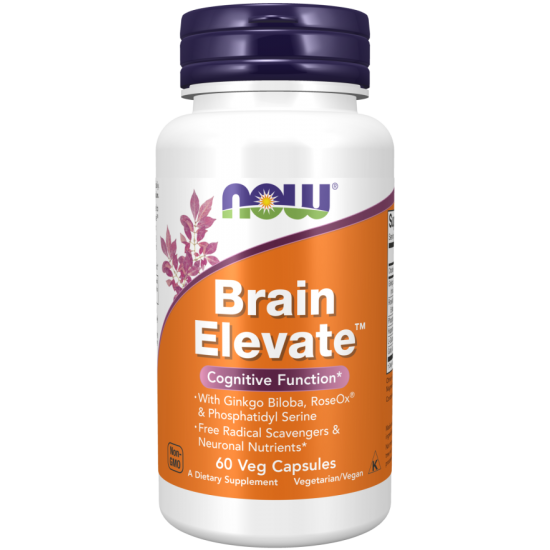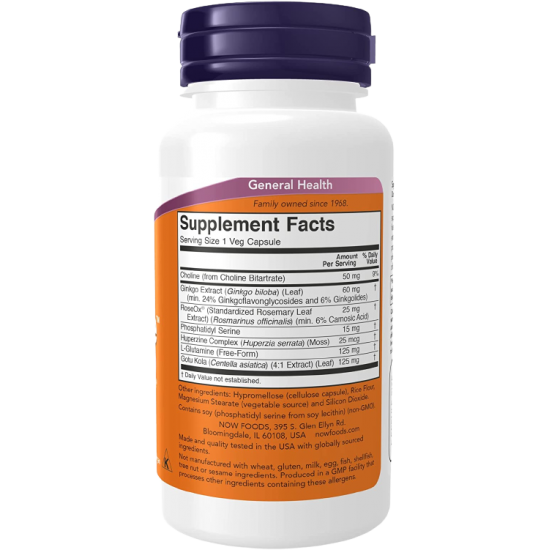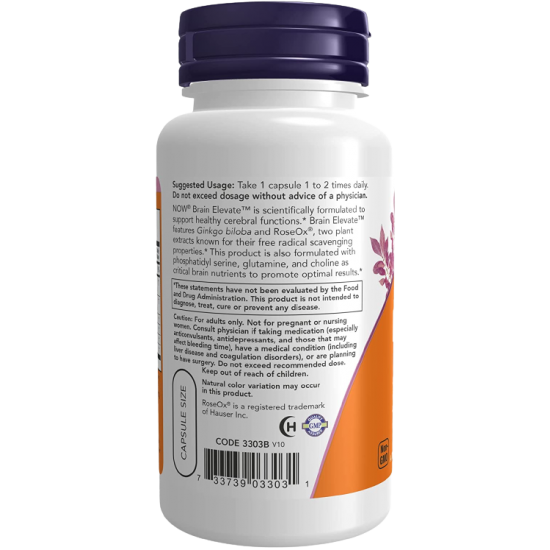 -18 %



Brain Elevate (60 caplsules)
Stock:

In Stock

Model:

P27079

Now Foods
Description
NOW®
Brain Elevate™
Nutritional supplement with ginkgo (Ginkgo biloba) extract, improves venous blood circulation and promotes peripheral blood circulation, helps maintain cognitive (brain) functions, brain function and mental health, especially in the process of aging of the human body.
- Brain stimulator, increases efficiency, improves memory, thinking, activates mental activity
- Increases the ability to learn, improves concentration
- Improves metabolism and blood circulation in the brain
- Has a calming and anti-stress effect
Nutrition facts
| | |
| --- | --- |
| Serving size | 1 capsule |
| Servings Per Container | 60 |
Supplement facts


Amount per serving

% daily value


Choline

(from choline bitartrate)


50 mg

9%

Ginkgo Extract (Ginkgo biloba) (Leaf)

(min. 24% Ginkgoflavonglycosides and 6% Ginkgolides)

60 mg

†


RoseOx®

(Standardized Rosemary Leaf Extract)

(Rosmarinus officinalis) (min. 6% Carnosic Acid)

25 mg

†

Phosphatidyl Serine

15 mg

†


Huperzine Complex

(Huperzia serrata) (Moss)


25 mcg

†

L-Glutamine (Free-Form)

125 mg

†

Gotu Kola (Centella asiatica) (4:1 Extract) (Leaf)

125 mg

†

†Daily Value not established.

Ingredients
Gothic cola leaf extract, L-glutamine, choline bitartrate, hydroxypropylmethylcellulose (capsule shell), standardized extract of ginkgo leaves, rice flour, RoseOx® (standardized rosemary extract), phosphatidylserine (from non-genetically modified soya) salts, silica; huperzine complex (toothed creeper powder)
No wheat, gluten, milk, egg, fish, shellfish, nut or sesame products have been used in the production. However, the product may contain particles because it is produced in accordance with good manufacturing practice (GMP) quality, which also produces products containing these allergens.
Good Manufacturing Practice (GMP), vegetarian / vegan, does not contain genetically modified organisms (GMOs).
Suggested usage
Take 1 capsule daily with a meal.
ADDITIONAL INFORMATION:

Adults only. Do not use this product if you are pregnant / breast-feeding. Talk to your doctor if you are taking any medicines (especially anticonvulsants, antidepressants and those that may affect your bleeding time), even if you have liver problems and coagulation problems or are planning to have surgery. Keep out of the reach of children. Do not exceed the recommended daily dose! Do not use a food supplement as a substitute for a complete and balanced diet! After opening, store at room temperature in a dry place. Please sort waste. Store in a bottle. Net weight: 41g. Batch number: (See packaging). Best by ... (See packaging).

RoseOx® is owned by Hauser Inc. registered trademark