Multi - Vitamin Complex (90 tablets)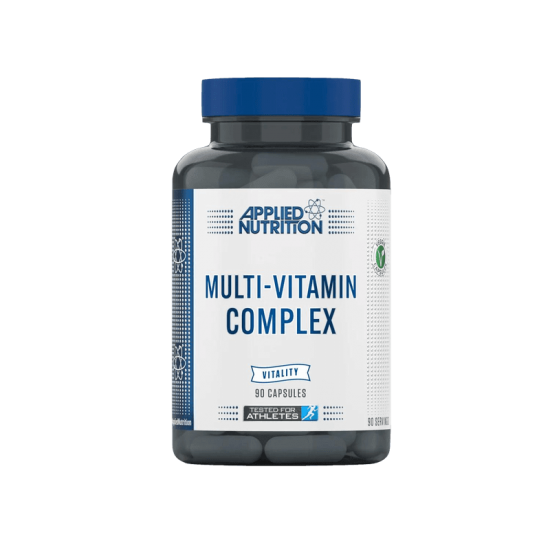 Multi - Vitamin Complex (90 tablets)
Stock:

In Stock

Model:

P33056

Applied Nutrition
Description
Multi - Vitamin Complex

Multi-Vitamin Complex contributes to the normal function of the immune system during and after intense physical exercise, the nervous system as well as normal muscle and cognitive function, and the normal formation of connective tissue.
- 30+ Vitamins, Minerals, Probiotics & Antioxidants
- Only the most bioavailable sources used
- Plant-based veggie shell well suited for consumers with
- dietary, religious, or cultural restrictions
- Leading dosages of every ingredient
- Halal Certified Product
TESTED FOR ATHLETES
Every batch of this product is tested for banned substances under a monitored programme. Products undergo rigorous testing at an ISO 17025 accredited lab to provide the highest level of assurance that they are safer for athletes to use.
Nutrition facts
Serving Size 1 Capsule
Servings Per Container 90

amount per serving
%RI
Calcium
495 mg
62
Magnesium
150 mg
40
Vitamin C
150 mg
188
Green Tea 95% Extract
100 mg
*
Choline Bitartrate
161 mg
*
Grape Seed 95% Extract
50 mg
*
Hesperidin
39 mg
*
Vitamin B1
25 mg
2265
Vitamin B2
25 mg
1779
Vitamin B3
25 mg
156
Vitamin B5
25 mg
414
Vitamin B6
25 mg
1779
Quercetin
25 mg
*
Inositol
25 mg
*
Zinc
25 mg
160
Iron
14.1mg
100
Vitamin E
10.5mg
88
Probiotics
150,000,000 units
*
Lutein
10 mg
*
Co Enzyme Q10
10 mg
*
Piperine
6 mg
*
Lycopene 10%
3.3 mg
*
Vitamin A
400 µg
50
Folic Acid
400 µg
200
D-Biotin
150 µg
*
Manganese
100 µg
5
Copper
100 µg
11
Vitamin K1
100 µg
133
Chromium
100 µg
250
Boron
100 µg
*
Vitamin B12
100 µg
4000
Selenium
55 µg
100
Vitamin D3
25 µg
498
* Reference Intake.
Ingredients
Micro Crystalline Cellulose (Binding Agent), Calcium Carbonate, Magnesium Oxide, Ascorbic Acid, Citrus Bioflavonoids (35% Hesperidin), Green Tea Extract (95% Polyphenols), Choline Bitartrate, Grape Seed 95% Extract, Riboflavin, Vitamin B3 (Nicotinamide), Calcium D Pantothenate, Pyridoxine HCL, Quercetin, Inositol, Zinc Oxide, Ferrous Fumarate,
DL Alpha Tocopherol, Magnesium Stearate (flow agent), Silicon Dioxide (flow agent), Lactobacillus Acidophilus, L-Seleno Methionine, Marigold Extract (90% Lutein), Co Enzyme Q10, Black Pepper Extract (95% Piperine), Lycopene, Retinol Acetate, Folic Acid, D-Biotin, Manganese Citrate, Copper Citrate, Vitamin K1, Chromium Picolinate, Boric Acid, Vitamin B12 (Cyanocobalamin), Seleno Methionine, Cholecalciferol.
SUITABLE FOR: Vegetarians. ALLERGENS: Grape.
Suggested usage
Take 1 serving (1 capsule) 3 times daily with food.
ADDITIONAL INFORMATION:

CAUTION
Check with a qualified health professional before using this product if you are under the age of 18, pregnant or nursing a baby, or if you have any known or suspected medical condition(s) and or are taking any prescription or OTC medication(s). Not to be used as a substitute for a varied diet and healthy lifestyle. Store this product in a cool dry place, away from children. Do not exceed the suggested use.